KEY TAKEAWAYS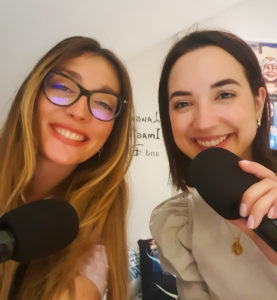 Hi everyone!
My name is Tena and I'll be your host in the podcast "Make Some Waves".
For the first episode, I've prepared a small interview where I'll be the guest on the podcast and Tea is going to be the host! I want to give you a sneak peek of how my journey began and what am I planning to do next.
How do I know Tea? We met in 2013 when we were both on Erasmus exchanges in different countries. At the time, we have been a part of the same Croatian student organization, and we wanted to keep making a difference and work on cool projects even while outside of our home country.
"To this day, working with Tena remotely during Erasmus was the most productive, enjoyable experience I have had, and I don't know anyone who brings more enthusiasm to everything as does Tena."     – Tea Zavacki
Also, did you know that Tea now has her own business and is helping entrepreneurs and freelancers build profitable and meaningful businesses? The girl is the best! Check her out! https://www.teatime.com.hr/ https://www.instagram.com/teatime.com.hr/?hl=hr https://www.youtube.com/channel/UCVc_ZvNzFt1S2rtfND6_c1w Did I always know I wanted to work in Marketing? No, I definitely did not. I had another dream in mind – acting. I wanted to be a Hollywood actress. My proudest moment with acting was getting accepted to the New York Film Academy. Why economics? I'm going to blame my Mom for this. She always saw me as a marketing professional. I applied to the Faculty of Economics in Zagreb, and later on, my path led me to Marketing. I hate to say it, but Mom was right. Surround yourself with people that motivate you and are driving you to be better. Thanks to those people, I decided to specialise in the Marketing field. Marketing in theory vs in real life – You have to have a theoretical overview of Marketing and its structure. Still, to have efficient marketing in real life, you have to be agile and ready to embrace the change.
"Without the challenges, we cannot grow to our full potential." – Tena Turčinović
If I have to choose one thing to pursue in my carrier, it would be to work alongside the people with whom I can grow, make mistakes and have a problem-solving mindset. What does it mean to be a Brand? In short, you are the Mom and Dad of the brand you are managing. 😊 As a Brand Manager, you are responsible for creating and implementing long and short-term strategies for your brand. You work alongside different departments like R&D, Sales, Supply Chain, Production and many other departments. In short, you are driving the business that surrounds your brand.
For a business to work and function efficiently, every aspect of the business has to be aligned but the business must also be flexible and ready to adapt to changes.

Responsibility and transparency are the key ingredients to a successful collaboration.

Have fun in everything that you do. It will make the hard times easier, and the good times will become great memories.
From Brand Management to Digital Marketing. Why Digital Marketing? New technologies, new dynamics, new possibilities will grow your business, the fun that you can have while interacting with the online world and many more reasons… Press play on the podcast for more juicy details. All in all, we have a lot of work for us to do. This is an exciting time for anyone that is working in digital marketing! The vision for my website and the podcast "Make Some Waves" My idea is to have a platform where I can explore all the areas that are of great interest for me. In my podcast I want to explore the areas of digital marketing and brand management from a perspective how can companies use those two areas to grow their business. In the long term business can use their influence and resources to help the community. I have always been passionate about finding ways to help the community. In my podcast, I want to give space to individuals, organisations, projects and companies to share their work and the experience to motivate more people to join and help in their community in some way. As you can see, there is more than one area I would like to cover. In many ways, I am still searching for my place in the world. I would like to share my experiences and my knowledge from the very beginning. We will see where that path will take me 😀 Where do I see myself in  5 years? Flying up in the air, but standing firmly with two feet on the ground. Also do not miss the 10 QUICK & EASY WAVES! – Tea's 10 random questions that she was dying to ask me. Books /Websites/ Reference mentioned in the podcast: Book: "Swim with the Sharks" by Harvey Mackay Book: "Bee Fearless: Dream Like a Kid." by Mikaila Ulmer Podcast: "What kids can teach us about starting a business with Mikaila Ulmer" in the Marie Forleo podcast Thank you for listening and watching the podcast! I hope you liked it. If you want to reach out to me, give me your feedback of just go for a coffee, click on the link below. Guys have fun and make some waves! With love,