KEY TAKEAWAYS
Hi everyone!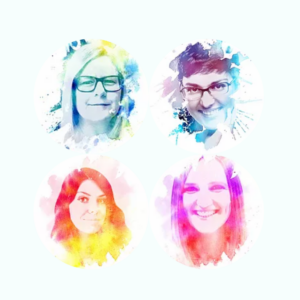 In today's episode with me are four IT enthusiasts who started an organisation,  "Change Institute", with a single purpose to motivate IT professionals to volunteer, mentor and guide people from the IT sector in Croatia throughout their career.
Their first program is called Mentoring Byte, and it's their way of giving back to the community that raised them and creating an even stronger one. 
Who are they?
Our speakers and founders of "Change Institute" are Lora Pleško, Nataša Kapov, Andrea Knez Karačić and Marina Grljušić, who have an extensive background in the IT industry.
An absolute powerhouse of IT enthusiasts!
So what motivated them to start the project Change Institute?
They say it's much, much easier than you would think. The team had an idea of how to make the IT society in Croatia better, and a few girls got together and quickly talked about the idea of having a mentor. In the end, a small idea turned into u big project. 
When a group of enthusiastic women get together, there is nothing they can't do.
"You can help a person a lot by offering a new perspective." – Nataša K.
The idea behind the "Mentoring Byte" program is to have a simple application process if you need a mentor. On their website, you can look at the list of mentors a pick the one you would like to work with. Simply write a letter to your mentor and get in touch with them. If you don't know who to pick, in the application, you can write down what type of mentor you would like to have, and the girls will choose a mentor for you. 
The mentees need to be from the IT sector, where the goal is to encourage the growth mindset and offer a wide range of mentors from different areas of business and industries, not just for the IT sector.
  "The biggest challenge is people's mindset" – Andrea K.K.
Let's try to keep it simple. There are 3 types of mindset that they've faced over the years. 
"I don't know anything, and I'm afraid to ask."

"I know everything, and I don't need to grow."

"I know enough in my area, but it's not enough to teach others."
Do we ever stop learning? Can a mentor, at one point, become a mentee again?
"We never stop learning." – Marina G.
A mentor is a person who can not only help you save time and energy but he or she can provide you feedback on your progress and connect you to a network of professionals who can help you throughout your carrier.   
A mentor can become a mentee during a mentoring session. Even in mentoring sessions, a mentor can face an area that they are not so familiar with. At that point, you will start asking and learning about new things and broadening your experiences. It's also a way to keep learning new areas and solutions that you can pass on to your mentees afterwards.
"We are not born with a mindset. It heavily depends on the environment where we grew up." – Lara P.
If we have a supportive environment and a mentor that can guide us from our younger age, we can also develop an entrepreneurship mindset. A mentor in life can lead you to the places you might not be willing to go by yourself. 
Today, the collective mindset is changing. Being an entrepreneur is finally interesting where we are seeing a lot of success stories in Croatia, which is where mentoring jumps in. People will need to learn to ask for help. 
It's important to know it's ok to fail, and mentors will be there to help you along the way. 
I have to say, there is no stopping to where these ladies are headed. 
Also, do not miss the QUICK & EASY WAVES! – Random questions that I was dying to ask them!
Websites/ Reference mentioned in the podcast:
Website: https://changeinstitute.wixsite.com/mentoring-byte/info
You can listen to the podcast on Spotify, Google Podcasts, Apple Podcast, Anchor, Breaker, Overcast and Radio Public.
Thank you for listening and watching the podcast! I hope you liked it.
If you want to reach out to me, give me your feedback of just go for a coffee, click on the link below.
Guys have fun and make some waves!
With love,