KEY TAKEAWAYS
Hi everyone!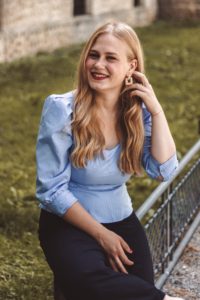 Today's guest is young, talented and inspiring Maja Krištafor. She is an activist, journalist, freelancer, social media manager, and so much more.
She will tell us more about what it means to be an activist in the digital age.
Who is she?
She calls herself "an activist in the making" while raising awareness about problems that the younger generations are facing, organising workshops, projects and fights for equality among young people in her community.
From a young age, she was a person with a wide range of interests, ambitions and desires. Maja first studied biotechnology in Rijeka, where she volunteered on numerous projects and became the Student Association of Biotechnology president. In the meantime, she became a national coordinator of the conference, different events and radio co-host.
Soon realised that her path will lead her in a different direction, where she moved to Zagreb, starting her life from scratch. She dived in the marketing PR waters as a social media manager and a field journalist.
We've talked about what makes her life so compelling and what are her passions in life:
what does it mean to be an

activist

,

her experience as a

journalist

in times of COVID-19,

how is she using

digital media

to raise awareness for problems in today's society?
How would she describe an activist in three words?
"An activist is ambitious, thick-skinned and willing to take action fast." – Maja K.
Tune in and listen to Maja's experiences and advice about:
her first experiences as an activist,
what are the first steps for taking action
topics that she is taking action on and raising awareness about them!
Also, do not miss the QUICK & EASY WAVES! – Random questions that I was dying to ask Maja!
Websites/ Reference mentioned in the podcast:
Maja Krištafor Instagram page: https://www.instagram.com/majakristafor/?hl=hr
Maja Krištafor LinkedIn Profile: https://www.linkedin.com/in/maja-kristafor/?originalSubdomain=hr
Maja Krištafor YouTube: https://www.youtube.com/channel/UCFQ6SKPNpAZ8WL1mkGL-kOw
You can listen to the podcast on Spotify, Google Podcasts, Apple Podcast, Anchor, Breaker, Overcast and Radio Public.
Thank you for listening and watching the podcast! I hope you liked it.
If you want to reach out to me, give me your feedback or just go for a coffee, click on the link below.
Guys have fun and make some waves!
With love,